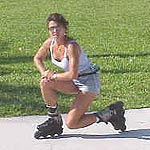 Practice bending the knees to lower the center of gravity and increase your versatility and balance.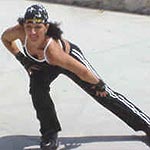 Bring the knees up in front or back for hip-flexors, abs, hamstrings and gluts.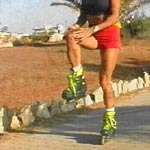 Training techniques to get started: Lift one leg independently from the other, hold 2 seconds. Stop like skiing, the snowplow, bend the legs and distribute your weight on the inside of the legs. Cross-overs, lunges, plenty of arm movement, lead with shoulder for direction.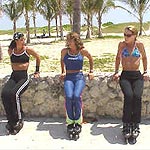 While blading, it is helpful to work the triceps, lowering your hips by bending the elbows behind while not allowing the wheels of the skates to slip outside the line of your knees.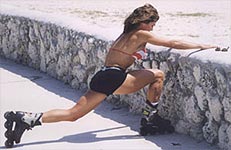 When going over an uneven surface, be sure to put one foot farther in front of the other so that you can to distribute your weight in reaction to the surface and not trip on both skates.
Practice on various terrain such as going from smooth surfaces to grass in order to maintain balance and equilibrium.